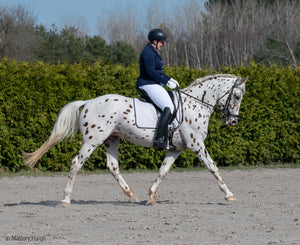 Three Colours - Size Inclusive (Up to 3X!) - Ultimate Comfort
Your new favourite breeches
A combination of the best parts of riding tights + traditional breeches -- welcome our Aquila Full Grip Hybrid Breech by Altair Equestrian! This line is exclusive to Piaffe Shoppe - you won't find it anywhere else.
The technical fabric of these medium-rise pants has the comfort and stretch of your favourite yoga pant, with the security and durability of a traditional breech. Direct-transfer silicone is long-lasting, grippy, and featuring a unique damask print that is both eye-catching and practical. And the best part? No squeaking!
Size Inclusive
We believe all riders should have access to comfortable, flattering breeches. The Altair Aquila line goes up to 3X with plenty of stretch thanks to our multi-way stretch fabric, perfect for schooling or shows.