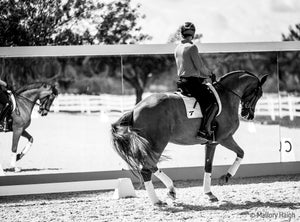 Piaffe Shoppe is proud to work with top professionals and up-and-coming riders across Canada
JAMES + TINA IRWIN
Team Irwin Dressage
Team Irwin is home to World Cup rider Jaimey Irwin and Pan Am gold medallist Tina Irwin. They specialize in Dressage training, lessons, clinics and sales, as well as a one of the strongest junior/young rider programs in Canada.
Jaimey and Tina's system of training comes directly from the German legends of Classical Dressage. Both trained in Germany with Holger Muenstermann, the well known World Cup competitor, who himself trained with highly respected masters: Reiner Klimke, Harry Boldt and Willi Schultheis.
Tina and Jaimey work with Canadian Olympic Bronze Medalist, Evi Pracht, and Robert Dover, American multiple Olympian. At the same time, they are passing their knowledge and experience to their own students, who are achieving top results both in the show ring and in achieving their personal goals.
"It has been a pleasure working with Mallory from Piaffe. Mallory is very professional, knowledgeable and punctual. We receive our products in a timely manner and Mallory has excellent communication skills. She is always keeping us informed with the status of our order and will make sure that we are satisfied with our products." - Team Irwin
Briannon Johnson
Stonecreek Farm
Briannon has been a successful FEI competitor since the age of 14 in the FEI Junior, FEI Young Rider and Advanced divisions. She has also worked with countless developing horses. She has been the recipient of Bronze, Silver and Gold Medal Awards from Dressage Canada as well as the winner of over 40 National Level Awards, received the prestigious "Eight Award" from Dressage Canada for outstanding position and effective rider aids and is a former Canadian Team Member from the 2004 "Challenge of the America's". She has achieved scores over 80% in the National Ring and over 70% in the FEI Ring and has dedicated her life to pursuing excellence and building a fantastic training program at Stonecreek Farm.
"My clients and I love Piaffe Shoppe. Their brands are not only luxurious and beautiful but their mobile unit allows for supreme convenience for boot and helmet measuring, shopping days and browsing! From Mattes to Derby Boots I have been so happy with the quality of their products and Mallory makes every effort to be accommodating and generously shares her knowledge and expertise of each item in her collection." - Briannon Johnson