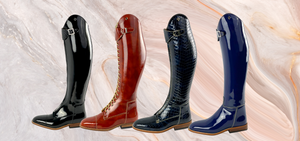 Form. Function. Customizability. From Holland to You.
WHY DERBY?
We get it - there's a lot of choices in the market for your next pair of boots.
Handmade in the Netherlands with exceptional attention to detail and quality, Derby boots will not only look good, but last throughout the rigorous demands of a professional's schedule or an amateur's dream.
We work directly with the owners of Derby itself, a family-owned business that has been in the riding boot industry for over 50 years. The possibilities are endless, whether you're looking for a flashy schooling boot or understated, traditional show boot.
Unique, like you.
Your boots tell a story. Personal expression is easy with Derby's collection of leathers, style of boots, and various functional and style upgrades and options.
When it comes to sizing options, Derby also has a broad range of options for riders of all shapes and sizes. Hundreds of standard sizes, and the most reasonable custom and semi-custom fees in the business make Derby a great choice.
After all - your dream boots shouldn't just look good and be budget-friendly, but they should perform too.
Order Yours
Text or WhatsApp +1-705-957-7607